How to download your files
From your account
There are different ways of accessing your files. If you purchased a design or font you can always find it in your account (Select: My Account > Downloads & License Keys).
In the Downloads & License keys sections simply click the download button. The download will automatically start and the files will be stored on your computer.
From the product page
If you have a subscription or you are trying to download a free design, you simply click the green 'DOWNLOAD' button on the product page.
You always need to be logged in, in order to download. If you are not logged in you will be prompted to login. Simply enter your credentials or create an account, and you are ready to download the file.
Where are my files downloaded?
Whenever you download something via your browser, it is up to your browsers settings where the download will end up. Usually this is the downloads folder on your computer.
Unpacking & Unzipping the files
All downloads on Creative Fabrica come as .zip files. ZIP files are compressed files and is simply a collection of one or more files in one single file.
ZIP are the most used archive file format and each operating system, including Windows and Mac, work with ZIP files. No additional software is needed.
Unzipping a zip folder in Windows
On Windows there are multiple ways of accessing the files in a ZIP folder.
To view the files in a ZIP, simply double-click on the ZIP file and you will see it's content. You can see below how this works.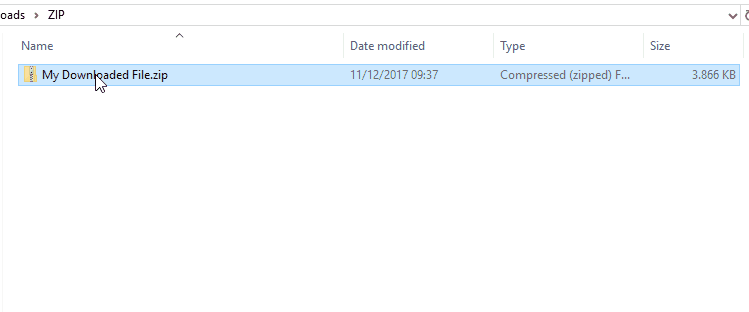 While the double-click option will allow you to quickly see the content of a ZIP, it's usually more convenient for future use to unzip the archive.
To unzip the archive:
Right-click on the ZIP archive
Select the "Extract All..." option
Choose where you want to unzip the files (if you don't have a special preference, you can simply leave the default location filled in)
Click "Extract"
The files will now extract and a new folder will be created showing you all the files.