At Creative Fabrica, we always strive to provide high-quality resources for our customers. Therefore, we advise designers to follow the guidelines below:
File Formats: When you upload graphics to Creative Fabrica, please make sure to provide a variety of file formats so that customers are able to open your graphics in a variety of programs.

The most popular file types for graphics on Creative Fabrica are PNG, SVG, EPS, and DXF files. You are also free to provide additional file types, such as JPG and PSD files.


How to upload: Graphics need to be compressed into a ZIP folder. We encourage you to name your files so that it is obvious which design is which, and to avoid them just 1.jpg, 2.jpg, 3.jpg etc. This way the customer can easily find the design that they are looking for.


Required resolution: All graphics must have a minimum resolution of 300 DPI. Graphics with a resolution of less than 300 DPI will produce low-quality printing results.


Product Name: You do not need to add 'Graphic Design' to the product name, as we automatically name them Graphics in the sub-headline on the product page once the design is live.

We also encourage you to be creative with your product names. If you are uploading multiple similar designs, for example, Mandala Designs, it is okay to name them Mandala 1, Mandala 2, Mandala 3, and so on. However, whenever possible it is best to name them with descriptive titles.


Product description: Provide well-crafted, clear, and informative product descriptions.
We encourage you to mention which formats are included with your product and what software supports the product.

If your product contains quotes or sayings, please add all the quotes to the product description. This will help improve the SEO performance of your product page and make your product easier to find for anyone who is actively seeking your product.

Finally, please do not mention any prices or discounts on the preview images or description texts. In case your products will be included in a promotion, this could cause confusion!


License information: To avoid any confusion, please do not include any information or files about licensing in your products. We only provide two types of licenses for all products on the site:

Single Sales License

and

Subscription License

.


Third-Party Links: Please do not include any third-party links in your products. This is because we want to make sure that our customers are able to access everything they need directly in the download.


Contact information: Please do not include any contact details. We manage all customer support for you, so there is no need to include this.


Product Tags: You have an option to add product tags to your listing. We encourage that you add important keywords relevant to your design. It is beneficial to do this as it will make it easier for customers to find your design in the search result.


Spelling: Ensure that there are no spelling errors and grammatical mistakes in your designs and preview images. We recommend that you utilize a spell checker to prevent any grammar and spelling mistakes. Here are some free spell checker tools you can find online:

https://www.jspell.com/checker/

and

https://www.online-spellcheck.com/


Similar designs: Similar individual listings should be bundled and uploaded as a set instead of uploading each similar design as an individual listing. Similar listings with similar product titles can lead to negative reviews from the community as it makes it difficult to search for them in your store.


Preview Images: All preview images must be in a 3:2 dimension, and we recommend that you make them 1200px x 800px. The preview images should accurately depict what is included in your download. Preview images play a very important role in the popularity of your products, and we recommend you to make them as engaging and attractive as possible.

Below you will find examples of visually appealing preview images. This preview image is considered to be a good example, because it is whimsical, romantic, playful, and incorporates the typical crafting color scheme that contains pastel, soothing, and less saturated colors. We find that many of our customers really like this.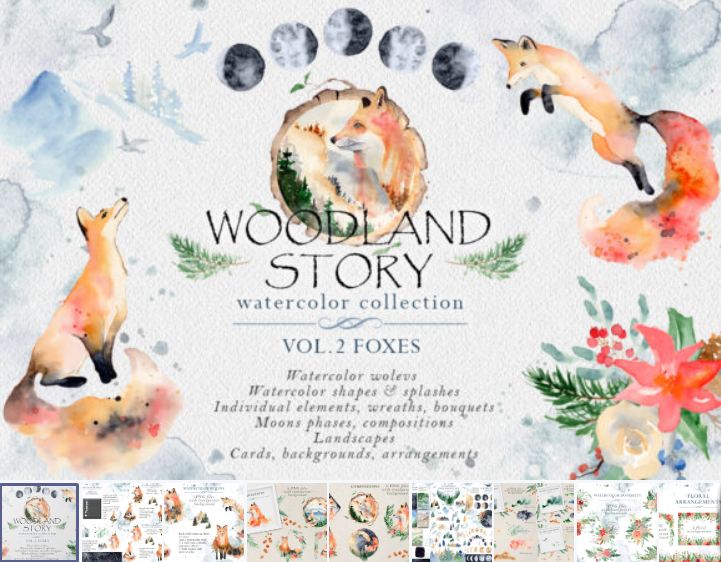 Link to the product: https://www.creativefabrica.com/product/woodland-story-vol2-foxes/
If you have any more questions about this, feel free to reach out to us at designers@creativefabrica.com