Your CF Fans earnings are automatically added to your Creative Fabrica wallet.


To transfer the earnings from your Creative Fabrica account to your Paypal or Payoneer account, you need to request a payout to verified PayPal or Payoneer account. You can verify your payout by following this guide



PayPal
To request a payout via PayPal, go to your wallet in the dashboard.
Click on Request Payout. You will be asked to type in the PayPal address where you want to receive the money. The money will be paid out within 7 days of the request.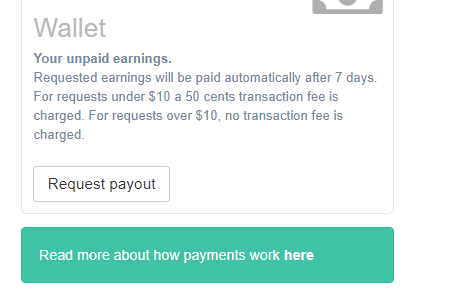 Please note that if the request is less than $10, a 50 cent transaction fee is charged.


Payoneer
It is also possible to make payouts via Payoneer. To do this simply request a Payoneer payout straight from your dashboard. Please note that the request needs to at least $100.
The money will be paid out within 7 days of the request.


Bank Transfer
While PayPal is the most common and affordable way to payout earnings, it is also possible to payout earnings via bank transfer.
Please note that bank transfers can only be requested when the amount is over $100. There is also a $20 handling fee, which will be deducted from the wallet. We will try our best to make the payment within 7 days.