What is account verification?
We have partnered with Sum and Substance, an industry leader in compliance, in order to battle fake accounts and fraud. By ensuring that accounts are verified, we will be able to effectively combat copyright infringement and other fraudulent activities. This means that we will be able to protect the intellectual property of genuine designers and continue to improve the quality of the platform as a whole!
Is account verification mandatory?
Account verification is not mandatory, though there may be occasions where we ask specific accounts to go through the verification process. Any designer account that is verified will receive a verified seller checkmark on their profile, which may improve customer confidence in that designer's products.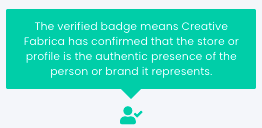 How do I verify my Account?
Verifying your account is quick and easy - in most cases, your account will be verified in just a few minutes. Simply follow the steps below:
Visit the Verify my Identity section of your designer dashboard.
Verify your phone number by text message. Make sure you have formatted your phone number in the international format as per these guidelines. If you do not have a mobile phone, you can also choose to receive a phone call instead.
Enter your personal information. Make sure to enter information in all the required fields that are marked with a *. If you do not have a last name, please enter a dash in that field:


Go through the identify verification process. Please see Sum & Substance's FAQ's for more detail about the process.
There may be some instances where Sum and Substance requests some extra data from you, in which case the process may take around 24 hours.

Please note that we cannot verify accounts manually - all verification must take place via Sum & Substance's verification tool, which employees at Creative Fabrica do not have access to.


Will my data be safe?
All of your sensitive data and documents will be securely handled by Sum and Substance in line with European Union data privacy law (GDPR). Creative Fabrica will never have any access to any of this data.

All data transfer and storage is encrypted, so you can be confident that your data is safe and sound. If you'd like to learn about the technical specifics of Sum & Substance's data security compliance, you can read more here.

If you have any questions, please feel free to reach out to us at designers@creativefabrica.com