Opting your products into Creative Fabrica's promotions and deals is a great way to maximise your sales and increase revenue! It's important to note that opting your products into our promotions does not guarantee that your product will be selected, only that your product will be part of the pool that we choose from when we decide to run a deal.


How do we choose which products to include in our deals and promotions?
The products that are included in our promotions are selected automatically based upon the popularity of the products on our platform. For tips on how to make your products succeed on Creative Fabrica check out this article which is full of tips and tricks on becoming a successful seller!


How to opt in or out of Deals and Promotions
Whenever you upload a new product, you will be able to select which deals you want that product to be included in. For example, if you want to opt your product into our discount deals, simply check the Consider for Discount Deals checkbox:



You can also manage your preferences from the main page of your designer dashboard. Simply click the edit product button for the product you want to update





Then click on the edit button for the deal you would like to opt in or out of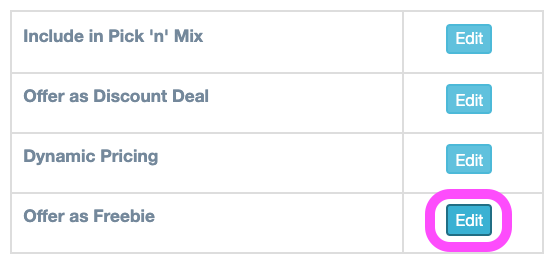 What Promotions and Deals are there on Creative Fabrica?
There are many different types of deals and promotions on Creative Fabrica, each of which will be explained below


Pick 'n' Mix Bundle
Every week we select at least 30 new products per category (Fonts, Graphics and Crafts) to be included in our Pick 'n' Mix Bundle page. Customers can choose thirty products from the page to build their own bundle.

You can easily opt-in products you have already uploaded from the Pick 'n' Mix section of your designer dashboard.


Discount Deals
Discount Deals are products that are discounted to $1. Each discount deal launches for a limited amount of time (7 days) and will automatically revert back to its regular price after the time has run out.

You can opt products that are already live in your store from the discount deals section on your dashboard.


Weekly Freebies and Daily Gifts

Weekly freebies are products that are offered for free for seven days only, whereas Daily Gifts are available for just 24 hours. If your product is chosen you will receive an offer via email, and if you choose to accept you will receive a one-off payment.

These products are promoted through our newsletter, on Facebook, and with push notifications, so they are often very popular!


Silhouette Design Store
Silhouette is a manufacturer of crafting machines such as the Cameo 4, Alta, and Curio, which are popular with many of Creative Fabrica's users.

We have a collaboration with Silhouette where we are offer specific, high-quality fonts in their exclusive marketplace, the Silhouette Design Store.

If your font gets selected to be offered on the Silhouette Design store you will receive an invitation email.